Pre-School and Daycare Pickup App for Parent Curbside Pickups
Blast through child curbside pickups using the latest geolocation parent pickup application on the market.
Parents start their pickup journey on foot or in a car and the child care center is notified of the estimated arrival time for "contactless" daycare curbside pickups.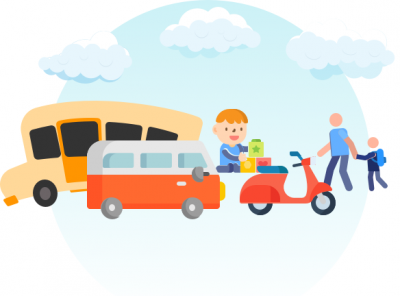 Pre-School and Daycare Curbside Pickup App
FetchKids keeps pickup lanes free and clear from anxious waiting parents by giving your team a headstart on getting the child ready for pickup. Happy, clean children with daily notes are handed off quickly to parents in order of their arrival. Our parents wait less to gather their children as they are packed and ready to go! 
FetchKids, Pre-School and Daycare Parent Pickup App, improves pickups for all types of preschool and daycare facilities such as Montessori schools, language immersion schools, parochial/religious, international schools, daycare project-based, community, and special education schools. In addition, our secure solution integrates with a multitude of other preschool and daycare systems and tools to allow for privacy, security, communication, coordination, reporting, and more! Pickmykid safety pickup aapp
Here are some of the features that benefit our Pre-Schools & Daycare
Staff matches photos and/or licenses in seconds through the app

Staff can electronically capture and store the signature of anyone who is picking up a child

If it helps your situation – staff can escort the child to the parent's car or their loving arms so parents don't have to park or come inside

Parents control authorized adults in a few clicks on their account

Parents can make last-minute changes to pickup schedule through the app

Pickups times are captured to avoid parent conflict

Playdates and last minute changes are all done with no confusion or hassles

Easily manage complex summer camps schedules through the app

Mass emergency communication tool included!
FetchKids Partner Daycares and Preschools
Partner with FetchKids to support your stand-alone daycare or daycare franchises across the region, the country, or the world. FetchKids daycare partners benefit from first-class, hands-on 24/7 tech support, and customer service for all their child pickup needs. The Tadpoles daycare software and pickmykid app are not comparable. 
The Tadpoles daycare software and pickmykid app for curbside pickups and daycare child management software. 
HOW TO GET STARTED
1. Schedule a quick product demonstration

3. Configure your features & invite parents

4. Parents create their accounts

5. Parents start the app when they start their journey to the facility

6. The staff gets children ready in order of expected arrival time

7. Confirm authorized adult in seconds

8. Happy parent and child skip way into the sunset